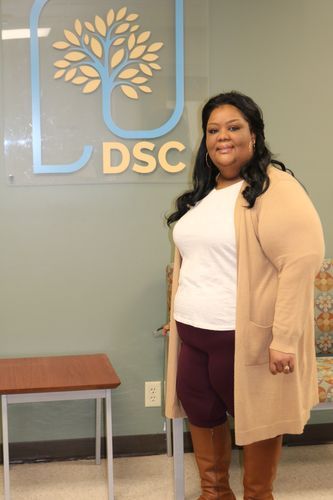 Meet Ania!
In November, Ania celebrated her 12th anniversary with DSC. Ania is the CDS (Community Day Services) Coordinator and she has worked in CDS throughout her tenure at the agency, though when she began her career here, the program was called DT (Day Training).
Prior to joining DSC, Ania worked as a CNA (Certified Nursing Assistant), though she described some similarities, such as getting to know people well, the two jobs are largely different. Indirect support work, Ania told us that you get to know people on an intimate level, but you have fewer people on your caseload and have more time to spend with each person. Direct Support is person-centered, meaning that it is all about supporting them in what they would like to do.
"I talk to the people here, just like anyone else and try to get to know them," said Ania. "One person comes in my office and sits down and I might say, 'Hey friend,' and he responds, 'Hey friend' now when sees me. I would tease another person here and use humor and jokingly ask him, 'What do you want?' when he came in my office and just like we find that funny, he thought it was funny too. That's how I get to know the people we support."
Ania also serves on the Cultural Competence Committee here at DSC. "One of the things I love the most about the work I do here is that I've been able to help steer cultural conversations and connections. There was one occasion where we were trying to get everyone to stop calling people 'baby' because it wasn't appropriate, but one of the African-American men didn't want to stop saying it. I was able to help my co-workers and management here understand that when an African-American man or woman calls you 'baby' or 'love,' it's not considered inappropriate, or being said with sexual undertones. It's part of our culture. I also love cooking greens and cornbread for people during Black History Month. People tell me they remember eating it at home when they were growing up and that feels good to be able to provide that for them here at DSC."
Ania enjoys joking around with both her co-workers and the people who receive support from DSC. When you get to know people, you see they have a sense of humor, just like anyone else. We also have tough days sometimes and when you are able to encourage someone to make it through and see progress on a difficult day, that's good too. Those are the best bonding moments."
Ania has seen many changes at DSC over the twelve years that she's been at DSC. "I've always liked how DSC has treated people good. We have time to talk to people here and really provide care here and that's why I do what I do here."
She keeps a busy scheduled outside of DSC. Ania works a second job at Schnuck's and she has four children, two boys and two girls. Two of them are grown and two are still at home. When she's not working, you're likely to find her watching one of their football or basketball games at Centennial High School. She is also married and most of us know already that she loves to cook.