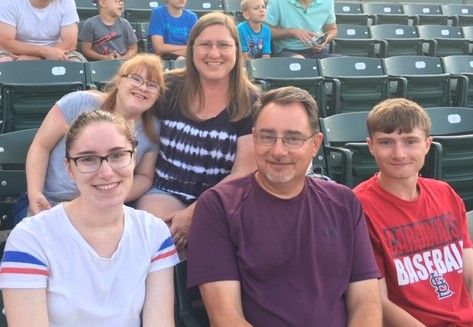 Meet Melissa!
As is tradition in May, we are once again highlighting DSC Moms in May!
You may remember Melissa, as she was highlighted last year during our Tree of Hope Campaign. Today we are recognizing her for all she does as a mother in her family, our community, and as a teacher at St. Matthew School. Melissa also serves as a DSC board member.
Let's take a look back at her family's story:
This week we are being reintroduced to the Hoerner family. The Hoerner's were DSC's Tree of Hope Spokesfamily in 2003. We recently caught up with them to get an update on how their lives have progressed since that time 16 years ago!
Meet Todd, Melissa, Paige, Colleen, and Will! Time flies when you are having fun, or raising kids, and the Hoerner kids have definitely grown up! Paige, the oldest, is a student at the University of Illinois studying art and graphic design and is a gymnastics coach. Will is now a junior and an honor student at The High School of St. Thomas More, and he is on the varsity baseball team. He also plays travel ball for The Dream.
Colleen is 19 years old and a senior at Centennial High School. After her graduation this year, she will attend the Young Adult Program (YAP) through Champaign Public Schools. She is rounding out her earlier high school education with the life skills program where she is learning about handling money, riding the MTD bus, cooking, cleaning, laundry, and community navigation. 
Colleen is a gymnast and a member of the Special Olympics Gymnastics Team, a position she has held on the team since its inception five years ago. Colleen loves her family and enjoys spending time with them, admires her sister, has fun playing Challenger League Baseball, and loves K-Pop Bands!
While Colleen has a couple of years in the YAP, she and her family are beginning to explore the options she will have as an adult living in our community. For now, Colleen sees herself at home for quite some time, as both of her siblings are still there too.
Observing Melissa and Todd – you can tell they are just having fun. Their kids are at great ages, and each of them brings joy to their parents in their own personal way. One big relief has come with time. Time, and a lot of effort on the part of their family and Colleen, has brought answers to the many questions and worries Todd and Melissa had when Colleen was born.
When Colleen was born, she joined Paige who is just one year older. As young parents, Todd and Melissa did not know much about Down syndrome. The information Melissa was given in the hospital was significantly outdated and created more worry than answered questions.
Together Todd and Melissa made it their mission to change this for future families facing an unexpected diagnosis. As such, they got involved with the Down Syndrome Network where they are still involved today. They have worked hard to create inclusion and opportunity for all three of their children and recognize how they can help other families who have a child with Down syndrome.
Todd has been a volunteer coach for Colleen's Challenger League Baseball team for many years, with Will and Paige helping as a player "buddy" for batting and field support. Melissa has served on the DSC Board of Directors for over 15 years where she helps to support the organization in many different ways.
The time ahead with all three kids still at home is waning. As each leave as they enter young adulthood, more changes and new answers will still emerge; however, they have the blessing of each other and an incredibly supportive community who embraces diversity and recognizes individual value.
Happy Mother's Day, Melissa-Thanks for all you do, during these times especially! That goes for all the moms in the DSC community!!
To read more Meet Me on Monday stories or to donate, visit: www.dsc-illinois.org