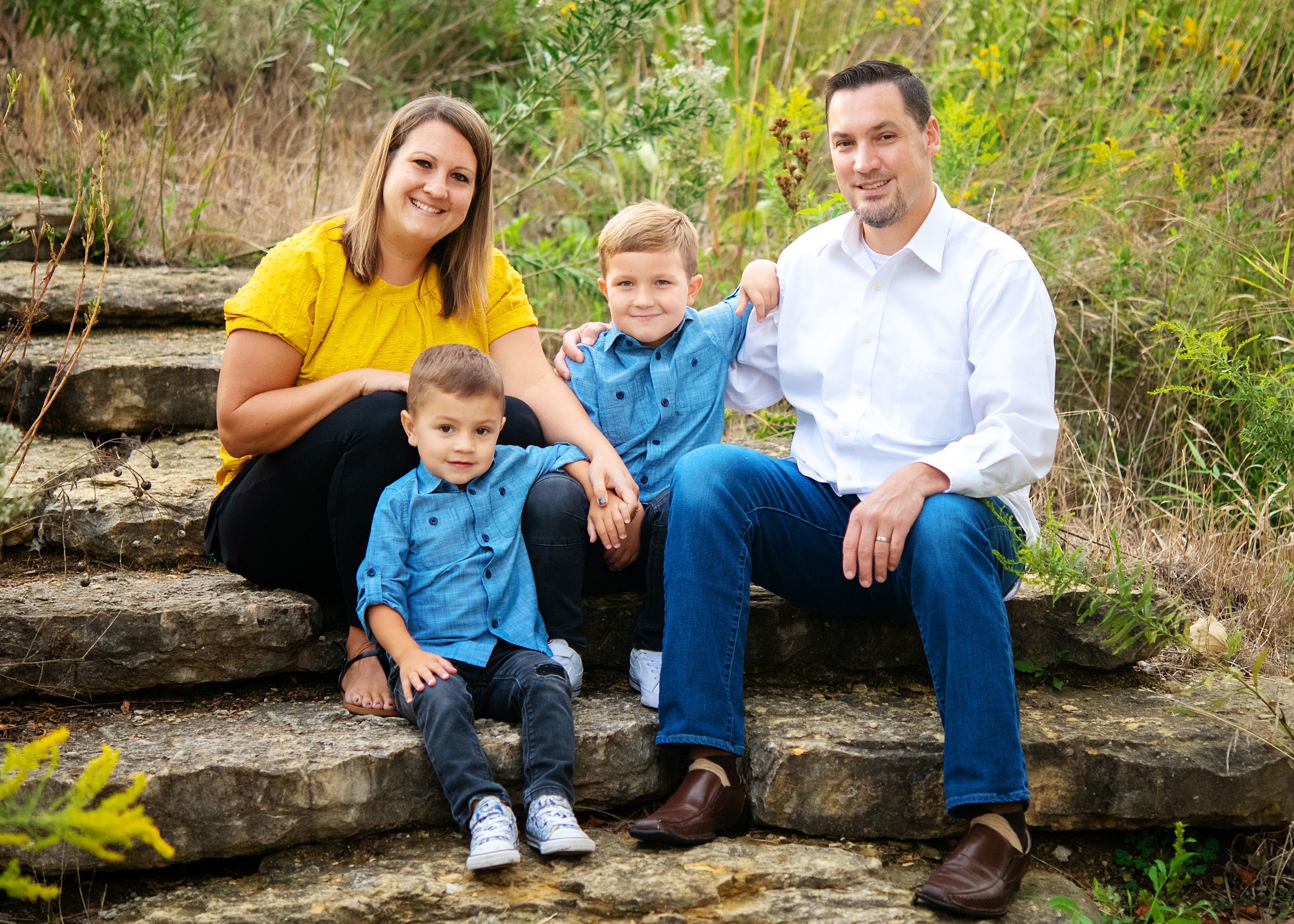 Meet Me on Monday- May 2, 2022
Meet Megan!
Throughout the month of May, we are honoring our DSC Moms! All of you mean so much, and we want to take this opportunity to share some of the inspirational moments and the challenges you have faced. Happy Mother's Day! We celebrate you!
Megan Herrig, is the mother of Maddon who is four years old and receives support from DSC. You may recognize her, because she is the mom from our 2021 Tree of Hope family. When Maddon was around a year old, when many babies begin to say their first words, Megan and her husband, Seth started to notice that Maddon was not saying any words at all. He made many sounds, and he always babbled, but the words were not there yet.
When Maddon was not quite three years old, Maddon received a speech disorder diagnosis called Childhood Apraxia of Speech (CAS). Childhood Apraxia of Speech is a lifelong speech disorder that he will not ever "grow out of," but he can overcome. As Megan describes it, for Maddon, having CAS means that he understands what you are saying to him, and what he wants to say back. However, he has a hard time getting his mouth, lips, tongue, vocal cords, jaw, etc., coordinated enough to make that response. So, for most of his four years of life, Maddon's thoughts, wants, and needs have been stuck inside his brain, with no way out. 
Prior to her son receiving services from DSC, Megan was aware of DSC because her Aunt works at DSC. However, Megan said, she did not come to the full realization of the broad range of services provided by DSC, until the need for the services surfaced in her own life. "After Maddon's diagnosis of CAS, I was asking, 'What will we do? How am I going to handle this?' At that very moment, My Aunt who works at DSC was sitting across from me at dinner said, "You need to get him in to see Barb." At the time, I had no idea who Barb was. Nor did I know that Barb Hoffman, a Licensed Speech Pathologist at DSC would forever change our lives.
Megan knew Nicole Sikora, who was working at DSC as the Family Development Director at the time Megan reached out to inquire about DSC services. "Nicole's husband, Mark Sikora was my coach in High School, and Nicole helped me get Maddon in PLAY Project, a play-based therapy for children with autism. The services were not just for him, but it provided so many resources and connections for me, and our whole family. I pride myself on being a townie, and knowing about all the resources, but connecting with DSC was like opening a treasure of resources. It was so eye-opening!"
"I think one of the big challenges as a mom, especially as a mom with a child who has special circumstances, is that society puts a lot of pressure on us. It is amazing that we have a great wealth of resources, but it can also come with a lot of pressure. We often hear from others, or we put pressure on ourselves. We want to make sure we are getting our child in the latest available therapy to help our child reach their highest potential. It can feel never ending at times for moms."
Today, Megan enjoys hearing from others who often reach out to her for resources. "My connection to DSC, led me to so many other groups, like C-U Able, and other Facebook groups. I'm glad to now pass along what I have learned to others who are a part of this community."
If you are a mom, and your child has recently received a diagnosis, Megan's best advice is to trust your gut. Moms know their children best. Do not be afraid to reach out to others, and ask for help. "I reflect back on those early days, and my Aunt was this great resource, working at DSC, and she was sitting right in front of me.
"One of my favorite moments during this journey we've been on, was at the Tree of Hope Kick-Off in November. Maddon had met with Barb, mostly over Zoom up until then because of the pandemic. We were sitting at a table, and Maddon says, 'Mommy, look and see, look and see!' Then, he darted across the room, and jumped into Barb's lap. What you have to understand is that Maddon does not do this. Barb did this! She had the magic key that changed his life," said Megan.
In those early days, when they first learned of Maddon's diagnosis, Megan said they did not know if they would ever hear, or see Maddon express his feelings or words, based on his diagnosis. After working with Barb and DSC, Maddon can now say, "Mommy, I love you!" To a mom, that means everything.
Thank you, Megan for sharing your story and all you do as a mom! Happy Mother's Day!
To read more Meet Me on Monday stories visit: https://bit.ly/1RUdyrs