Action Needed: Value The Work DSP Campaign (Direct Service Professional)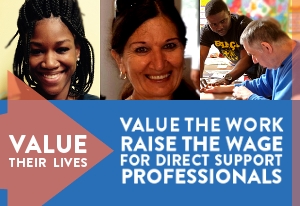 Dear Friends of DSC,

As you know, the ongoing state budget impasse has hurt vulnerable people throughout Illinois including individuals with intellectual and developmental disabilities, people living with mental illness and seniors. Now, amidst the worst budget outlook community providers have ever had to face, we find ourselves confronting an even more urgent problem, a Direct Support Professional (DSP) workforce crisis.

Christie Clinic Illinois Marathon
We need YOUR help!  DSC has been a proud partner of the marathon since its inception, and we form the corral teams on Friday night and Saturday morning.  What does it mean to be a volunteer for the corral team?  You "hold large signs designating different starting corrals, by finish time, for runners in the start area to ensure that the corrals are orderly and clearly defined. Assist with the wave start process. This is an outside, rain or shine job."
Volunteers get a t-shirt and race bag!  Detailed instructions sign up as a DSC Volunteer can be found by clicking below.
"Meet Me on Mondays"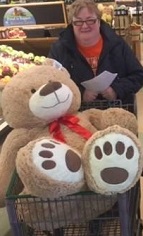 Meet Me on Mondays is our feature that highlights current staff members and individuals who chose our services.  DSC is full of truly incredible people and we want to share this information with you, the public! Stay tuned to learn about our staff and consumers, how they became involved with DSC, and what they love about the organization! We will be introducing new individuals on Mondays! 
This week...let's meet Dori!
Dori enjoys working with everyone at DSC and lets it show through her friendly smile. Recently, Dori worked with other consumers at DSC to cook a Saint Patrick's Day feast. She worked hard with other consumers to prep and cook all of the food for Saint Patrick's Day.
When Dori's not in the kitchen, she volunteers with other DSC consumers at Salt & Light​  and the Swann Special Care Center​. Dori also really enjoys park walking, a paid community job that takes place four days a week. Dori and her coworkers pick up trash left behind to restore the beauty of our Champaign community's parks through Champaign Park District​.  Dori has been park walking for over 10 years now. Brian Richter from DSC says that Dori is one of the mainstays for the project. Dori loves to get outside and get some exercise. Several years ago, Dori and a few of her coworkers made a pledge that she leads that after they're finished with the parks, "Today is the day that I made a difference. My community can count on me to keep it clean!"
In her free time, one of Dori's favorite things to do is to visit her nieces and nephews who live in central Illinois.
CU Able Family Education Series
Join Illinois Treasurer Mike Frerichs on Saturday, April 23rd as he present information on The Able Act. The program begins at 9:00 a.m. and will conclude at 11:00 a.m. and will be held at St. Patrick's Catholic Church in Urbana. For more information, click the link below.

---
Family Informational Meetings & LEAP Certification
Leaders Employing All People
What is LEAP? To gain a better understanding of what becoming LEAP certfied can mean to your business, click the link below to watch a short video of Michelle Petty, DSC LEAP Coordination, and Jamie Stevens, Community Choices LEAP Coordinator explain the importance of this certification.
DSC and Community Choices are collaborating through the creation of LEAP (Leaders Employing All People) to advance the Employment First initiative. The informational meetings will share the progress of the Employment First Initiative in Champaign County and how it will influences services in the future. These meetings are open to individuals with developmental and/or intellectual disabilities residing in Champaign County, families, friends, and anyone who is interested in supporting this initiative. For more information on the meetings taking place monthly, please click the link below.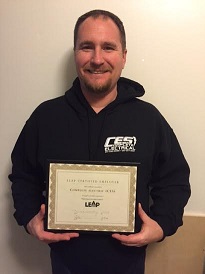 Congratulations to our newest Partners for Employment! Along with the effort above to advance the Employment First initiative, a new local initiative has been launched in support of this state-wide effort. Businesses who hire, or are interested in hiring someone with a disability have the opportunity to become a LEAP (Leaders in Employing All People) Certified Employer. Six area businesses are new LEAP Certified Employers. Congratulations to Rockwell Automation, Planet Fitness Walgreen's in Mahomet, Complete Electric, Loving Paws, and MIGA Restaurant who recently became LEAP certified. When asked why Rockwell Automation decided to become LEAP certified, Ms.Marty Miner, Senior Human Resource Representative, shared, "It's just the right thing to do." In working to make Champaign County an even more disability inclusive community, we are offering businesses to receive this certification through the hiring, or interest in hiring, people with disabilities. If you are interested, please contact Partners for Employment at (217) 360-0033 or via email at pfe.by.leap@gmail.com.
You Shop. Amazon Gives.
AmazonSmile is a simple and automatic way for you to support DSC every time you shop, at no cost to you. When you shop at www.smile.amazon.com, you'll find the exact same low prices, vast selection and convenient shopping experience as Amazon.com, with the added bonus that Amazon will donate a portion of the purchase price to DSC. Fun. Simple. Costs you nothing!  Shop today!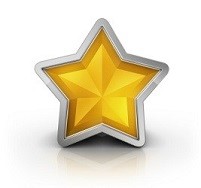 Send a compliment to DSC Staff!
Our staff strives to provide quality supports and services to consumers, their families, and fellow employees each and every day and they deserved to be recognized for their exemplary work!
Twitter Feed
DSC e-Newsletter -

https://t.co/5AFo9mKDMs

Illinois state legislators need to hear from you! Advocate Today! #WeAreDSPs

RT @obrother3: Sad state of affairs: IL Budget repeatedly ignores health, safety ,welfare of its most vulnerable. #valuethework

https://t

.…

Thank you @MichaelWDWS for sharing our great news! We truly appreciate our friends @wdws1400!

https://t.co/tPI1AsVcXD
---